18 Sites Offering Free Samples
Freeflys
---
Request as many freebies as you'd like with Freeflys. The company offers various samples from children's goods, food, health products to cosmetic, and more. Some samples may even be full-sized or deluxe-sized products.
Free samples Freeflys offers come from various brands like: 
Sephora
Vichy
L'oreal
Starbucks
Domino's
P&G
And many of your favorite brands
Because samples come directly from the companies supplying them, it can take 4-6 weeks to arrive in your mail.
Some sample offers run out fast — follow the Freeflys Facebook page to get notifications as soon as a free sample offer is posted. 
Some of the recent Freeflys free sample offers include:
CeraVe moisturizing cream sample
Cuties baby diapers pack
Box of Kellogg's Jumbo Snax Cereal
Rebaid
---
With Rebaid, you'll receive rebates at your favorite stores like Amazon, Walmart, eBay, and Etsy — and you'll receive them in 3 days!
Some discounts are up to 100% of the purchase price. New accounts are limited to 10 redemptions, but the longer you are a member, the more redemptions you are allowed. 
Rebate checks are mailed in 5-6 weeks or can be directly deposited into your bank account for $1 per transaction.
Influenster
---
Influenster is a review site that relies on its community of users to provide feedback. 
The free samples you can get from Influenster fall under a wide range of categories, including:
Beauty and healthcare
Food, snacks, and beverages
Electronics
Home and garden goods
Baby and toddler products
Pet supplies
To get free beauty samples, join Influenster for the chance to be sent a "VoxBox" – an exclusive gift for members. Influenster samples are full-sized products with brands like L'Oreal, Kat Von D, BECCA, and more.
Joining Influenster is simple – just fill out your profile and connect your social media accounts. In return for a box of free samples, you'll need to leave an honest review on the site and share your experience with your followers.
Note that signing up does not guarantee you'll get a VoxBox— there's a limited amount available. Be sure to link your social media accounts and fill out your profile to give you a better chance at receiving one.
Smiley360
---
With hundreds of brands to choose from, Smiley360 lets you try out new products for free in exchange for your feedback.
Smiley360 offers a range of products, including:
Cosmetics
Baby and toddler products
Cleaning supplies
You will share your feedback with your followers, friends, and the brands themselves so they can improve their products in the future.
Sign up to receive "smiley missions" (products to review) suited to your interests. The more products you review, the more opportunities you receive.
Pro tip: To maximize your chances of getting more missions, complete available missions and surveys.
PINCHme
---
Fill out a profile on PINCHme to receive customized sample boxes suited to your interests.
PINCHme free sample catalog includes products from the following categories:
Snacks
Toys
Cosmetics
Pet supplies
Simply pick the samples available on the PINCHme platform you want to try and get them shipped for free.
Once you've tried the products, you'll need to complete a short feedback questionnaire, which will help brands improve their products in the future.
Sample Source
---
Sample Source's motto is "try before you buy!" So, try something new and get free products from a range of categories, including:
Make-up samples
Beauty care products
Household cleaning products
Health products
Food and beverages
and more
Simply fill out a profile with your interests and receive a box catered to your interests. In exchange, you may have to share your opinion about the products.
It can take between 4-6 weeks for your package to arrive.
Quantities are limited, so only one package per address is allowed.
BzzAgent
---
BzzAgent Summary
Free products from L'Oreal, GIllete, Nestle, P&G and more
You get to keep the product you test
You'll not be penalized for a negative review
Pays $10 per user referred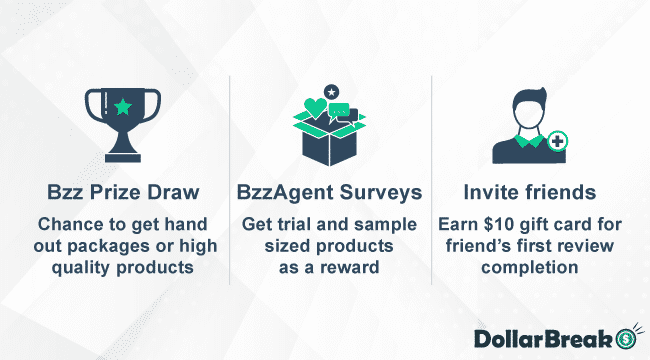 Join BzzAgent to receive free samples in exchange for your honest review.
The most common products you'll get from BzzAgent include:
Once you sign up for BzzAgent, you'll be sent free products in the mail to review and share on your social media. You should receive your sample within 1-4 weeks.
After receiving the box full of samples, you should create posts on your social media and include the required hashtags and @mentions to get credit for your review.
FreeSamples.org
---
FreeSamples.org is a directory that displays companies that offer free samples.
They provide links, but you'll be ordering directly from the companies.
Samples range from beauty products to home goods, baby products, and pet products.
Here's the list of some of the brands you can find on FreeSamples.org:
TacoBell
Maybelline
Vichy
CeraVe
Skin Ceuticals
IHOP
Dove
Baskin Robbins
Petcurean Pet Food
Pro tip: Sign up for the FreeSamples.org newsletter to keep informed of new opportunities.
Women Freebies
---
Join Women Freebies to get access to a range of free product categories. From health and beauty products to fashion apparel and food, there's a lot you can discover. 
Here's the list of recent freebies Wone Freebies offered:
Free YOLO Fragrance
$200 Aldi Voucher! 
Ben & Jerry's Free Pint of Ice Cream
Free Essie Nail Polish
Carefree Acti-Fresh Twist Resist Panty Liners Sample
Note that each deal has an expiration date, so make sure you frequently check for new free sample deals.
Sample A Day
---
With Sample A Day, you can get a new free sample every day.
There's no catch— Sample A Day says they double-check various offers on the web to ensure their validity and aggregate the best ones for you.
Free product categories you can find through Sample A Day include:
Beauty samples
Makeup samples
Skincare samples
Heath products 
Food samples
The platform is available for those in Canada, UK, and Australia.
Offers can expire quickly, so be sure to check back daily.
Free Stuff
---
Free Stuff is updated daily with new freebie opportunities. They provide links to programs that offer free beauty samples, cologne samples, health products, and more!
All you need to do is sign up and start browsing the interesting deals for you.
The Free Stuff platform also provides free coupons and paid survey opportunities.
My Free Product Samples
---
My Free Product Samples is dedicated to finding the best deals and sharing them with you since 2007.
The platform provides links to companies that offer free samples. They also provide coupons, rebates, giveaways, and paid survey opportunities as well.
The categories of free sample products you can find through My Free Product Samples include:
Baby products
Beauty products
Books and magazines
Food and beverages
Household products
Medicine
Health products
Free Stuff Times
---
Subscribe to the Free Stuff Times newsletter to receive new offers the moment they are posted.
Free sample offers include:
Free beauty samples
Perfume samples
Personal health products
Kindle books
And more! 
Free coupons and contests are also featured on the website.
What Companies Send Free Samples?
Amazon Baby Registry
---
Amazon baby registry is a program that sends you a surprise welcome box valued up to $35.
Free products you can get from Amazon usually include:
Diapers
Baby lotions and creams
Shampoos
10% discount voucher
Free Baby Box from Walmart
---
Create a baby registry with Walmart to receive a welcome box filled with essential baby products to start your parenting journey. 
Here's the list of free samples usually included in Walmart baby box:
Baby shampoo
Baby lotion
Diaper wipes
Diaper cream
Bottle cleaner
Baby laundry detergent
You can only get one box per registrant.
Similac StrongMoms Rewards
---
Join Similac StrongMoms Rewards to earn up to $400 in exclusive benefits throughout your parenting journey.
Receive free baby formula samples, coupons, and ongoing nutrition and education guidance. 
Your complimentary gift includes a free Shutterfly photo book as well.
Freebies4Mom
---
Sign up for a daily email from Freebies4Mom to get special freebie offers geared towards moms.
By joining the Freebies4Mom program, you'll get:
Baby product samples
Beauty product samples
Coupons for stores, restaurants, and brands like Target, Lane Bryant, and more
Sweepstakes entries
Sephora
---
Sephora allows you to get 2 free samples by mail per order that you place online.
Free samples from sephora include:
Free samples of cologne
Free samples makeup
Skincare samples
Body lotions
And more
Note that you may receive a different sample because of the high volume of orders online than requested.
How to Avoid Free-Sample Scams
---
While there are legit programs that send you free samples in exchange for sharing your opinion about them, there are some that might scam you.
As a general rule of thumb, to avoid free-sample scams, never share your sensitive personal or financial information on any websites. 
Your sensitive personal information that you shouldn't share include:
Your credit card number
Bank account number
Social security number
Legit platforms and programs that send you free stuff should only require you to provide your email address and a mailing address to receive your samples.